Ewell Horticultural Association
Ewell Horticultural Association (EHA) has been supporting and serving the local community of Ewell and the surrounding areas since 1865, offering Residents encouragement and companionship in the enjoyment of their gardens. EHA has over 1,300 members and is thought to be amongst the oldest and largest Horticultural Associations in England.
About Us
EHA is a non-profit making community based organisation run by volunteers for the benefit of its members. New members are always welcome; membership is open to all from £2 per annum. Members are encouraged to participate in the 3 annual Shows by exhibiting their own produce of flowers, fruit and vegetables plus crafts & design and photographs. The Shows are held at Blenheim High School, Longmead Road, between Ewell and Epsom, which offers onsite car parking plus fully accessible facilities. Everyone who has attended our Shows has seen the stunning floral arrangements and almost certainly enjoyed the refreshments and delicious homemade cakes.
The Association also offers an annual programme of talks and trips for members
Newsletters on our activities are normally sent to members 4 times per year.
Our AGM is held in March. The minutes of the 2019 AGM were approved in 2020 and can downloaded 
here. The draft minutes of the 2020 AGM can be downloaded here.
NEWS
Although the Summer Show in July has been cancelled, we are optimistic that the Autumn Show can take place on 18th September 2021.
However, GOOD NEWS.
Epsom Gardening Society have made the following generous offer of exhibiting at their show.
Subject of course to any Covid restrictions at the time, Epsom Garden Society plan to hold a 'Grand' Summer Show on Saturday 24th July, from 2.00-4.30 p.m. at St Martin's Junior School, Ashley Road, Epsom, KT18 7AD. They have generously invited us to participate if we wish (this is a one-off offer). EHA exhibitors would need to pay 50p per entry and would also be required to take their EHA membership card along on the day. We will be eligible for all trophies and certificates.

The schedule is on the EGS website  and includes Floral Art as well as horticultural classes. Staging of entries on the day of the Show needs to be done between 8 a.m. and 10.45 a.m.

Any further information required is available from Cathy Flitter - email: catherine.flitter2@ntlworld.com. Cathy is also the contact for entries, to be made no later than Thursday, 22nd July at 8 p.m.
EHA Show News
Members will be aware that the Vernon Cup is normally awarded at the Summer Show. As this show is not taking place, the Vernon Cup competition is moving to the Autumn Show. 
We are adding an additional class for children at the Autumn Show of a Pelargonium, supplied by us. These are now SOLD OUT.
The nominated class for the Autumn Show is a fuchsia. The fuchsia plug plants are now SOLD OUT.
Membership
As we had to cancel most of our events in 2020, we have decided to provide free membership for 2020. The subscriptions already paid for 2020 will be allocated as subscriptions for 2021 and subscriptions already paid for 2021 will be allocated to 2022. The 2020/2021 handbook will be used for 2021 as normal, and the 2020 schedule will be used for 2022. Dates of course will be different for 2022 to those shown.
New membership cards for 2021 have been issued.
Other News
The AGM due to be held in March will be postponed until we can all meet safely.
We are still unable to organise our garden trips until at least August. Please watch for further details when we can bring them back.
DISCOUNTS
The 2021 Dobies Group Scheme Seed and Plant Catalogues are now available to members. By quoting the Discount code you will receive 40% discount on seeds and 10% discount on other items excluding gift vouchers, certain items of equipment plus post & packing. To obtain the 2021 code and/or a printed copy please complete the enquiry form on the contact page of this website  Items can be ordered by phone 0344 967 0303 or online at www.dobies.co.uk remembering to quote the 2021 code on the order. The 2020 code is no longer valid.
Chessington Garden Centre and Ashtead Garden Centre are now open, though check their website for restaurant opening.
Members are entitled to discounts from
Beechcroft Nursery on Reigate Road,
F Giles at Chessington Garden Centre for machinery repairs
and NOW
We are very pleased to announce that your Committee has negotiated additional discounts with Chessington Garden Centre.
All members may now obtain 20% off the retail price for landscape, gardening dry goods and plants.
To receive the discount :
Take your current EHA membership card to the Chessington reception desk together with identification of your name & address, eg, a driving licence or a utility bill.
Chessington will then take your photo and your details and log both onto their system.
You will receive a Chessington Horticultural Club card to show, together with your current EHA membership card, to obtain the discount at the pay desk.
This will be valid for 1 year.
You will need to repeat this process with your 2021 EHA membership card from 1 February 2021
Note that the Chessington Horticultural Club card cannot be used in conjunction with existing offers or the Chessington Loyalty Scheme.
Hope that's clear!
 For more information on Chessington Garden Centre please visit their website by clicking here.
Do not forget you can also go to:
Ashtead Park Garden Centre which offers all members a 10% discount on plants. To receive this discount members only need to show a current membership card at the tills.
The centre offers quality bedding plants, fruit trees, bulbs, flowers, seeds, seedlings, trees and shrubs, sourced locally and hand selected from nurseries whenever possible.
This independent family run business is located just off the A24 between Epsom and Ashtead on Pleasure Pit Road. For a map and directions and more information please visit their website by clicking here
Unfortunately, Court Farm Garden Centre no longer offers a discount.
Ewell Horticultural Association is very sad to announce that Terry Eddowes passed away on 1 October
We will all miss Terry for her kindness and generosity, as well as the commitment and enthusiasm she put into supporting EHA over many years.
Terry was a long term EHA Committee member including being Show Secretary, where she was always available to answer queries from exhibitors whilst keeping the Shows running smoothly.
More recently Terry opted for a seated role both taking the money for the refreshments at Shows and also on the desk at the Talks.
To help keep costs down Terry offered her dining room for Committee meetings and always offered delicious homemade cakes with refreshments at the end of the meetings.
Those who attended our September 2019 Show will remember Terry receiving a presentation by the Mayor, Cllr John Beckett, in recognition of all her work for EHA.
It was a pleasure to have known Terry and everyone will miss her presence at our Shows, Talks and Committee meetings'.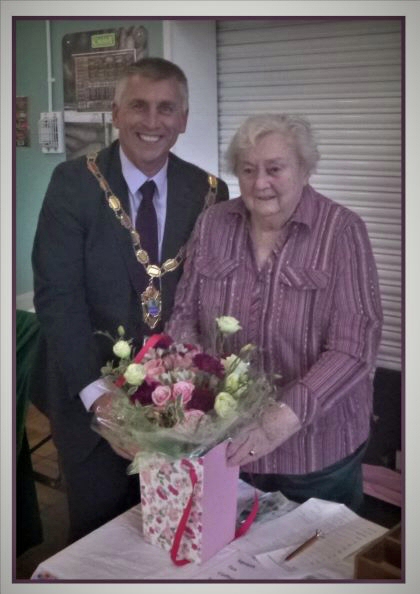 Affiliations